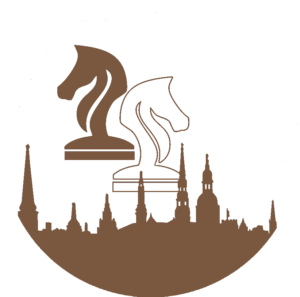 All participants of the 17th Baltic Solving Cup are very welcomed on Saturday, 6th of April, in the conference hall "BERLIN" of "Bellevue Park Hotel Riga", 1 Slokas Street, Riga! The direction to the hall will be shown on the screen by reception. In case of any problems/questions, please call Julia, +371 29425737.
For those arriving by car: the hotel has a big free parking place in front of the hotel and by its left side. Ride by taxi from the airport might take 15-20 minutes.
Registration starts at 11:00, the competition begins at 12:00, but, please, come at least some 20 minutes before the beginning! If anybody is willing to help – you're welcome! – Julia might be around solving hall from 10:30. 🙂
We have 2 rounds, 2 hours with 7 problems (#2, #3, endgame, h#, #n, s# and a fairy problem – hs#) each; 30 minutes coffee break between the rounds and longer coffee break, about one hour, while waiting for the results after the 2nd round.
Participation fee is 20 eur, or 10 eur for juniors, seniors, and those who have solving rating >=2000. Coffee breaks with some snacks are included. Water with lemon in the solving hall, paper, pens included too. We will offer you chess sets, and you're free to use your own as well.
And, finally, I hope you'll enjoy your time in Riga! The Old Town is some 2 km away from the hotel, but you'd need to walk over the bridge. Other options are tram, bus, trolleybus, and taxi.
Also, hotel has a panoramic restaurant on the top floor to see the Old Town from.
The weather is sunny, about +12C during the day time, no rain promised. You'd need some spring jacket and might open it if on the sun in the middle of the day. But still, please, remember, you're going to the North! 🙂
Have a nice trip to Riga and see you on Saturday! Wishing you a pleasant stay and enjoyable competition! – Julia.